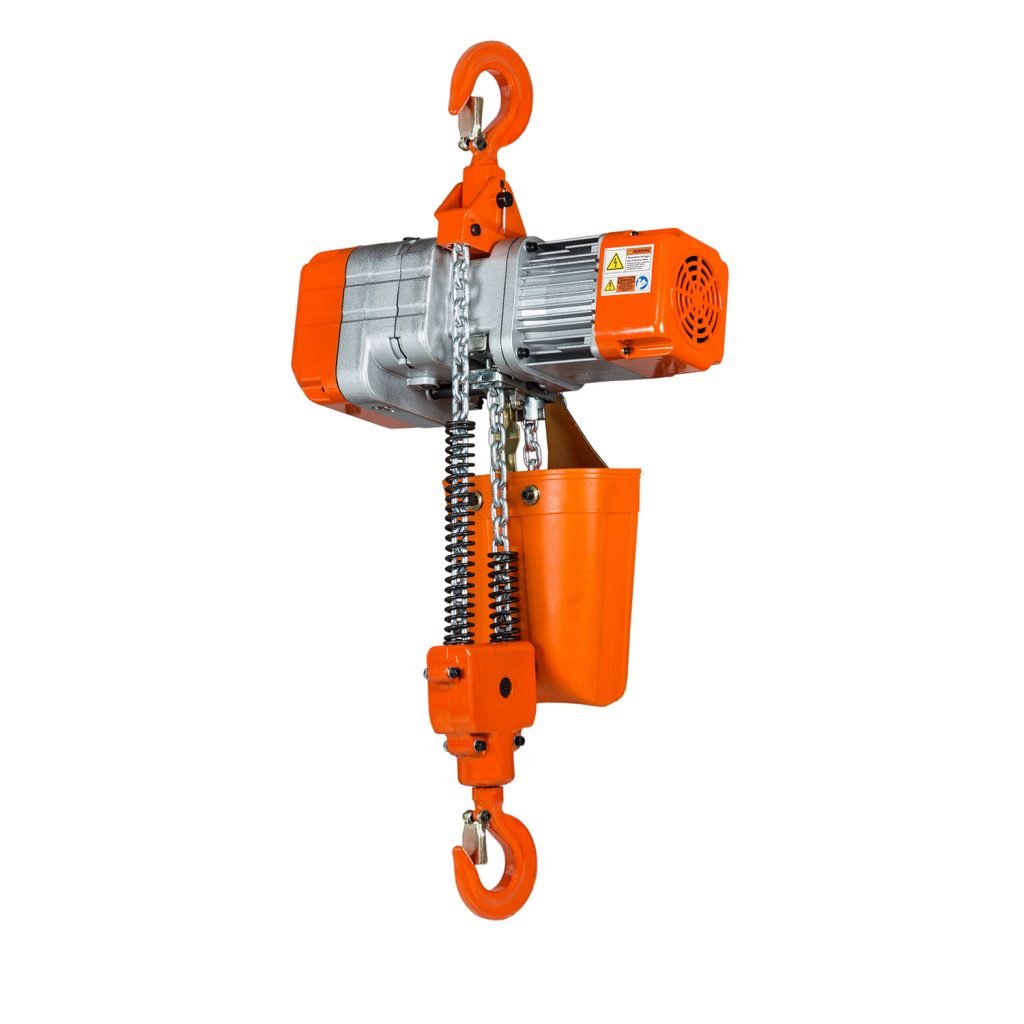 Prowinch Electric Chain Hoist
Prowinch Electric Chain Hoists are offered in a wide range of capacities, from 1/8 – 5 ton (125 -5000 kg). With the trolley originally designed to meet the dimensions specifications of customers, you will not find a quieter or more compact design. Prowinch Electric Chain Hoists come with all the required features you need to get your business up and running today. You may add additional features like a wireless controller, an extension shaft for the trolley or a longer chain. We are here to meet or exceed your expectations.
Standard Features
1/2 - 20 ton (500 - 20000 kg) capacities
Single to four-fall models
10, 15 and 20 foot (3, 4, 5 and 6 m) standard lift heights

Additional lifting heights available up to 100 feet

Single or two-speed hoisting options
Inverter or two-speed controlled trolley options
Top hook, lug mount, push trolley and motorized trolley suspensions
High-density polyethylene black chain container
Wired and wireless remote control
Pendant with an ergonomic pistol grip
IP55 protection classification
CSA c/US approval

60 Hz, 115 VAC models only
Why choose Prowinch?
Our Heavy-Duty Electric Chain Hoists are built to last. Every part on this hoist was designed to meet your expectations, from our specially engineered ergonomic pendant control grip to our rough design. Prowinch Electric Chain Hoists are designed to keep your facility up and running at its best.
Maintenance
The trolley components of our Electric Chain Hoist are engineered to last for the useful life of the unit, such as the motor, gearbox, and motor brake system. The brake pads inside the unit are self-adjusting, that way you won't need to readjust the air gap, the hoist reduction box is always lubricated. When performing maintenance, our hoists are designed for easy access to all parts and components. The sprocket wheel, chain guide, and limit springs are easy to access, and most of the electrical components are all plug-and-play designed for a quick inspection and replacement.
Design
Electric Chain Hoists need to be very resistant to keep up with industrial use. That is the reason our Chain Hoists are made with high resistant cast aluminum alloy body, which protects all the electrical parts and components inside the unit. The plug-and-play connection and electrical terminals are all housed inside the hoist for increased protection and reliability. Additionally, all Hoist's gearbox meets a minimum AGMA 10 rating, this will ensure high precision and durability of the unit.
Safety
Safety is the most critical factor in any industrial operation, whether you are lifting and engine block or raising a bridge, safety always comes first. That's why our Chain Hoists are load tested at 125% of its rated capacity and feature a slip clutch overload safety device with the overload threshold set at 110% the total capacity. The upper and lower limit switches also keep you and your load completely safe and protect the unit by preventing overtravel of the load. All Prowinch Chain Hoist comes with a User's Manual where you can find useful maintenance and safety information created specifically for your equipment.